…and in with new. This past week I've been sharing the details about some re-releases. Today, I thought I'd look ahead to a new series that's coming your way.
Meet the Boys of Fall! Coming your way January 5!
In Texas, the temperature isn't all that's heating up…coming home has never been so hot!
Coach Nicholas Carr was the greatest high school football coach the sleepy little town of Quinn, Texas had ever seen. He led his boys to the state championships year after year. However, only once did the Quinn Titans ever bring home the state title. Quinn locals still insist that high school team was the greatest Texas ever had or ever would see. The exceptional group of athletes went on to do incredible things, bolstered by the qualities their cherished coach had instilled in them.
But when a retired Coach Carr suffers a heart attack and risks losing his beloved family ranch, his boys return home, anxious to give back to the man who'd been like a father to all of them.
Little did they know that returning to Quinn meant they'd fall in love—and into bed with strong, sexy women that are their match in every way. Home is definitely where the heart is, and so is the shower, and the wall, and the kitchen table…
Warning: Keep a glass of cold ice water handy to avoid sudden heatstroke—and a change of panties never hurts either.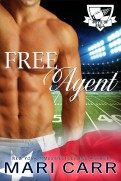 Free Agent by Mari Carr
Tucker Riley had only one aspiration in high school. Get the hell out of Quinn the second that diploma was in his hands. Tucker was finished picking his drunk, worthless father off the floor night after night, sick of watching his mother work two jobs to keep food on their table because his dad couldn't support the family. An average student, Tucker saw only one way out—his talent as quarterback on the gridiron. And his plan worked. Problem was college was still school, so after his sophomore year he turned pro and never looked back, never had any regrets.
Except her. Lela and Tucker were childhood sweethearts. Along with Coach, Lela helped him forget about how bad things were at home. Tucker broke up with Lela right after graduation and hit the road. Once he cleared the outskirts of Quinn, he made a vow never to return. For ten years, he kept that promise, unwilling to face the father he'd cut out of his life and unable to face the girl he never stopped loving.
When Tucker gets a call that Coach Carr has suffered a heart attack and needs help, Tucker is faced with a decision. Does he return with his teammates to help his beloved coach? Does he run the risk of running into the father he's left in the past? And if he does come home, what does he say to Lela? How can he make up for disappearing from her life so completely?
Going Long by Cari Quinn
Wade Bennett is the younger brother of Colton Bennett, who happens to be the all-around perfect brother. In high school, Colt was a star linebacker while Wade was the punter, an important job without all of the glory. Colt also got all of the girls while Wade focused on school, family and his music. When Charlene Martinez—the only girl he's ever truly wanted—falls for Colt, Wade decides to take his chances with music and goes on the road. Leaving behind his family, his new best friend, Rafe, and Charlene, who has feelings for Wade she's never allowed herself to feel.
Years in Nashville have hardened the soft, dreamy guy who just wanted to sing and hang out with his dog, Melody. He's found success on a small scale and has enough money to make a nice living, even if he knows he'll never compete with his big brother. After Coach Carr has his heart attack, Wade comes home to help the man who helped him make the decision to go all those years ago.
Now coming home is all he wants…especially since a newly divorced Charlene is single again after leaving Colt. And Wade is no longer a boy unwilling to fight for what—and who—he needs…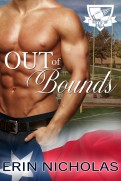 Out of Bounds by Erin Nicholas
In a town where football is the main religion and the boys on the field each fall are the deities, Jackson Brady had a charmed life. As the star running back on the sure-to-be Championship team, Jackson is living the dream. Until he pushes his luck just a little too far. And gets suspended from the team just before the big game.
All because goody-two-shoes Annabelle Hartington had to stick her nose where it didn't belong.
Watching his team win the title from the bench was hell and if it wasn't for Coach Carr's influence, Jackson would have spiraled completely out of control. Instead, he just spiraled enough to lose his college football scholarship. From there, he took on the bad boy moniker with a passion akin to his passion on the field.
Now, twelve years later, it's a no-brainer for Jackson when he's asked to return to Quinn to help his Coach after his heart attack. Jackson's grown up and gotten over the mistakes of the past. This is his opportunity to make up for everything. But they have to give him a chance.
And when he runs into Annabelle and sees how nicely Dr. AJ Hartington has grown up, he realizes that she is his key to getting back into everyone's good graces. If the beloved and respected town veterinarian is willing to take a chance on him, then everyone will see that he's a new man.
All he needs is to give her a win-win situation. And winning is something he takes very seriously.
I'm pretty sure everyone in the world heard me screaming from the rooftops about a month ago that I got back the rights to a bunch of my older titles. The stories I'm most thrilled to have back are my beloved Wild Irish. Just like a mother shouldn't play favorites, I'm sure the same holds true for authors. But the fact is…I've failed at that. I love this damn family so much. I still think of the characters and the stories often and I find myself missing the Collins clan. For several years of my life, I immersed myself in their stories, so in many ways, they became real to me.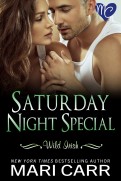 This time around, I was able to create covers that look like my vision of the characters. I suspect I drove poor Valerie Tibbs up the wall as we batted around WAY too many possibles. I am forever in her debt for her patience as I'd say how about this couple, only for her to put them in the cover template and have me say, "oh yeah…no. That's not it." The worst one to work on was Saturday Night Special. I lost track of the number of mock-ups Valerie did for that one. I found Riley absolutely IMPOSSIBLE to find. In the end…I just said, "Use this one. The guy is totally Aaron!" lol. I'm absolutely delighted with the end result on all the covers and I couldn't pick a favorite if you forced me. Maybe Come Monday…or…Ruby Tuesday…or…Wild Irish Christmas. No…Friday I'm in Love. I love that one too. Ugh! It's impossible!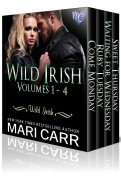 Another perk of having the books back in my clutches is the pricing. I really wanted to do a box set for these stories and now…I have. The first four books (Come Monday, Ruby Tuesday, Waiting for Wednesday, and Sweet Thursday) have been packaged together and are selling four books for the price of two. There's no time limit on this. The box set is staying up. And…if you don't like box sets, all of the books are up for sale individually too.
For those of you who aren't familiar with the series, I've shared the new covers, blurbs and buy links below (still waiting on iBooks and half of Google Play–sorry). I hope you'll check them out.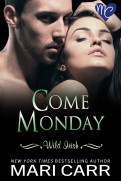 Come Monday – FREE READ
Wild Irish, Book One
Monday's child is fair of face…
After the death of her mother years prior, Keira Collins willingly put aside her dreams to become a surrogate parent to her six younger brothers and sisters. At twenty-seven, she's finally pursuing a college degree. Between classes, working at the family pub and still tending to siblings, she's no time for romance. So why is she spending all her rare free time fantasizing about hot Professor Wallace bending her over his desk?
Will Wallace recognizes Keira's unfulfilled desires, her habit of hiding her beauty, her obsessive need for control in every aspect of her life. But Will has needs of his own—and they run far darker than Keira's. As he initiates her into his lifestyle, offering sweet punishments and sweeter rewards, Will's sexual authority slowly strips away some of her precious control. The one thing Keira's not ready to relinquish…

Ruby Tuesday
Wild Irish, Book Two
Tuesday's child is full of grace…
Sky Mitchell is hiding out in Baltimore, seeking peace and solitude while he struggles with a career decision. Lead singer of popular rock group The Universe, he's thinking of going it alone. Wandering into an Irish pub, he's ecstatic to discover the breakout single for his solo album—but the songwriter doesn't want to sell. He challenges the woman to a contest. Not only does he win the song, but also a songwriting partner to complete the rest of the album.
Teagan Collins is sure of her talent but she's never aspired to fame and fortune. She's content singing folk tunes in her family's pub. Working on an album with Sky tests her patience…and her libido. The hot rocker plays her body like a fine instrument, their desire deepening with each song they write. But someone doesn't want Sky to go solo, and will stop at nothing to sabotage the couple's efforts. Undaunted, Sky wants Teagan to join him onstage at his farewell concert to sing her original, "Maybe Tomorrow"…
If they make it through today.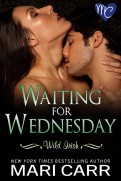 Waiting for Wednesday 
Wild Irish, Book Three
Wednesday's Child is full of woe…
Tristan Collins knows Lane Bryce is strictly hands off. She's smart, funny, kind…and married. But he still looks forward to her once-a-week visits to the family pub where he tends bar. When she fails to arrive one Wednesday, Tris is concerned. When he learns she's in the hospital, brutally beaten after attempting to leave her unhappy marriage, he's enraged. Tris vows to protect her, but he doesn't get the chance. Lane checks out of the hospital and disappears without a trace.
A year later, newly divorced Lane is back, and enjoying her independence too much to embark on a relationship. Tris intends to prove she can have freedom and love, and he's not above using seduction to do it. The more she resists, the more he sets her body ablaze with pleasure the likes of which she's never known.
After a lifetime of disappointment, trust doesn't come easily for Lane. But when her ex-husband reenters her life, threatening her independence, her happiness, she could discover too late that Tristan is the one man worthy of not only her trust, but also her love.
Sweet Thursday
Wild Irish, Book Four
Thursday's child has far to go…
In high school, Lily was too shy to do anything about her feelings for her best friends, Justin and Killian. Now she's ready to put to rest her regrets with a proposal that might shock even her oversexed friends—the three of them, together, one night, multiple positions.
K and J are more than a little surprised to see Lily at their ten-year reunion. The plain Jane they remember is now a stunning woman—who wants to have sex with both of them. Who are they to deny her? Even if Killian suspects they might be treading on dangerous emotional territory. The night stretches into the weekend and, as K suspected, none of them want it to end. But he and Lily know people live in pairs, not trios, and they call a halt now, before it's too late.
Justin, however, knows a good thing when he sees it. He's ready to fight for what he wants…what they all need. He just has to convince Lily and Killian that unconventional can also be extraordinary.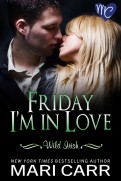 Friday I'm in Love
Wild Irish, Book Five
Friday's child is loving and giving…
Ewan Collins has had the hots for Natalie for years but she continually rebuffs him, supposedly because of their age difference. When Natalie comes to stay with the Collins family for a week, Ewan decides it's time to make his move in a serious way.
Natalie's been in a funk since celebrating another birthday alone. When Ewan proposes to help her "get a life"—seven lessons in seven days—she figures what the hell does she have to lose? Ewan's plans include tequila shots, fishing, karaoke…and other, more erotic hands-on demonstrations. But loneliness isn't Ewan's only obstacle. Tragedy in her past continually takes Natalie to a dark place her mind can't easily overcome.
With support, tenderness and love, Ewan plans to win over Natalie one lesson at a time. Starting with lessons of the heart.
Saturday Night Special
Wild Irish, Book Six
Saturday's child works hard for a living…
What do you get when you cross a gold-digging stripper, a down-on-her-luck hooker, an estranged husband, his knocked-up wife, a Wayne Newton lookalike taxi driver and one beleaguered Baltimore cop? A typical night in the life of Riley Collins—Vegas style. Riley's always been the wildest of the Collins clan, but even she bites off more than she can chew during an impromptu trip to Sin City.
Once again, it's Aaron Young to the rescue. No surprise; Aaron's been watching Riley's ass forever—and he's wanted to spank it for even longer. Tracking her down, Aaron finally gets his wish—after he drags a drunken Riley to a chapel and makes it legit, of course. To say she's shocked is putting it mildly. But Riley warms to Aaron's seduction quicker than you can say "all-you-can-eat buffet!" Who knew her mild-mannered best friend was so hot in the sack?
Of course, thanks to Riley's penchant for picking up strays, the newlyweds will have to sneak in some honeymoon boom-boom whenever they can. But they'll manage…

Any Given Sunday
Wild Irish, Book Seven
The child who is born on the Sabbath day, is bonny and blithe and good and gay.
Sean Collins is happy working at the family pub and sharing a house with the woman of his dreams. He and Lauren are equals in every way, including in bed, where they burn the sheets. Life is good. Even if he must hide a couple of secrets to keep it that way.
Lauren is madly in love with Sean. They share everything—almost. She can't deny sensing…something. A certain feeling when she, Sean and their friend Chad are all together. But she doesn't press. How can she when she's not being completely forthright herself?
Chad is feeling pretty miserable, and renting a room in Sean and Lauren's home has only made it worse. In a house filled with secrets, Chad's are doozies.
When an opportunity arises to explore their deep desires, the trio plunges into a sex-filled, emotionally charged ménage. Long-buried feelings are revealed, changing their lives irrevocably. Whether for better or worse, only Sean, Chad and Lauren can decide.
Wild Irish Christmas
Wild Irish, Book Eight
"To Conall Brannagh." Ewan took the bottle from his father. "Who?" "Conall Brannagh," Patrick repeated. "If your mother had chosen him over me, none of us would be here tonight."
It's Christmas Eve, and the Collins siblings have given their father a precious gift. All seven have gathered together to spend the night in his apartment above the family pub, the warm, loving home where Patrick and Sunday raised their large brood.
You've witnessed each child find their happy-ever-after. Now gather 'round the tree and join the Collins family as they pass a bottle of Jameson, and Patrick shares the story of how he won the heart of Sunday, his true love, his soul mate…and the mother of his seven Wild Irish.
Wild Irish Boxed Set
The Wild Irish series has made the Collins clan one of the most beloved families in erotic romance. Read the first four books in the series: Come Monday, Ruby Tuesday, Waiting for Wednesday and Sweet Thursday in this special boxed set.
Come Monday
After the death of her mother, Keira Collins became a surrogate parent to her six younger brothers and sisters, her own dreams put on hold. Now, at twenty-seven, she's finally pursuing a college degree. Between classes, working at the family pub and still tending to siblings, she's no time for romance. So why is she spending all her rare free time fantasizing about hot Professor Wallace bending her over his desk?
Ruby Tuesday
Teagan Collins has never aspired to fame and fortune. She's content taking care of family, friends and neighbors, and singing in her family's pub. Working on an album with Sky tests her patience…and her libido. The hot rocker plays her body like a fine instrument, their desire deepening with each song they write.
Waiting for Wednesday
Tristan Collins knows Lane Bryce is strictly hands-off. She's smart, funny, kind…and married. But he still looks forward to her once-a-week visits to the family pub where he tends bar. When she fails to arrive one Wednesday, Tris is concerned. When he learns she's in the hospital, brutally beaten after attempting to leave her unhappy marriage, he's enraged. Tris vows to protect her, but doesn't get the chance—Lane checks out of the hospital and disappears without a trace.
A year later, newly divorced Lane is back, and enjoying her independence too much to embark on a relationship. Tris intends to prove she can have freedom and love, and he's not above using seduction to do it. The more she resists, the more he sets her body ablaze with a pleasure she's never known.
Sweet Thursday
In high school, Lily was too shy to do anything about her feelings for her best friends, Justin and Killian. Now she's ready to put to rest her regrets with a proposal that might shock even her oversexed friends—the three of them, together, one night, multiple positions.
K and J are more than a little surprised to see Lily at their ten-year reunion. The plain Jane they remember is now a stunning woman—who wants to have sex with both of them. Who are they to deny her?
THE COWBOYS ARE BACK! Now…before you yell at me, these are short stories. I know, I know…you want longer stories. I've heard that comment for years and believe me, I'm taking it to heart. I'm starting to write longer. But…the cowboys are just quick, dirty, alpha male, make you feel all funny inside short stories. And the truth is…I've always loved them. Plus…they're only .99 cents!
Rem in Spitfire might be one of my all-time favorite heroes. And Liv…well…she just rocks because she keeps him on his toes and makes him work for everything he wants. I love a strong heroine.
Spitfire
Rem Bradley has loved Liv Carter forever. After his father's sudden death, Rem comes home for good—ready to reclaim his family's ranch and his woman. Problem is, the spitfire he finds brawling in the roughest bar in town is not the girl he left behind.
Liv recognizes trouble when she sees it, but she'd be a fool to resist Rem's seductive demands. Starting in the barn where they'd left off years ago, they use every available body part, plus a toy or two, to bring each other maximum pleasure. To make up for past mistakes, Rem will have to do a hell of a lot more than just satisfy her body—but that's a damn good start.
And a wee, dirty excerpt…because you know you want it!
The memory of her initiating the massive fight at Stan's drifted through his mind and his temper snapped. She'd done nothing but test his patience since she'd turned seventeen. He'd shied away from staking his claim out of respect for his father and her youth, but that time had passed. Liv Carter had just spent her last night as a free woman.
Unhooking her seat belt, he grabbed her and pulled her across the seat. He didn't give her a chance to respond as he took her lips in a kiss that showed her exactly what she was about to become.
His woman.
He forced her lips apart, moving into her mouth with his tongue, tasting and touching every part of her he could reach. Dragging his hands along her neck, he dug his fingers into her thick, silky mass of light brown hair, using his grip to hold her head in place while he feasted on her plump lips.
He wasn't surprised by her initial astonishment. She remained motionless for several seconds before he felt her small hands pushing against his chest in a half-hearted attempt to fight him. He deepened the kiss and she responded for several glorious moments before he practically heard the wheels begin spinning in her lovely brain.
He pulled his face away from hers when she increased the pressure on his chest, trying to shove him away.
"Don't fight me, Liv."
"Don't kiss me," she whispered, her gaze averted.
He grinned, forcing her to look at him with a slight tug on her hair. "I'm gonna do a hell of lot more than just kiss you," he warned. "You might want to go ahead and accept that fact."
And let's don't forget Rekindled! It's just as hot. Hell…it might be HOTTER!
Rekindled
It's been a year since her husband's passing, and running the ranch is taking its toll on Claire. Independent as the day is long, she concedes the need for help. She wants a foreman, an employee to run the day-to-day who can handle a woman calling the shots. Someone who won't give her any trouble…
Who shows up at her door, first in line for the job? Jeb Carter. Ex-high-school sweetheart. Longtime rodeo star. And the one man capable of making Claire's lust burn out of control…of making her surrender completely.
Trouble has finally come calling…and he's as irresistible as ever.
Can anyone say ALPHA MALE after reading this excerpt???
"No. I told you, I need someone who'll stick around, someone who understands how to run a ranch."
"Claire, for chrissake, I grew up on a ranch. I may have rejected the lessons and the lifestyle for a while, but I'm not thick. I know how to run a ranch. And I meant what I said earlier, I'm staying. It's time."
She fought back the instinct to shiver at Jeb's comments. She could read between the lines. "I'm not ready."
"It's been a year. I know you're grieving your husband but dammit, I can't risk you moving on without me. I made the mistake of giving up on us once. I won't do it again."
She closed her eyes, turned away. She couldn't face him or the memories, the years spent wondering what if. "That was a long time ago. I've grown up, changed."
"I'm banking on that."
She faced him, eyes narrowed. "What's that supposed to mean?"
"When we dated in high school, you were too young, too innocent to handle what I wanted. I know that. You're a woman now. My woman."
"No, I'm not."
"You've been mine since the day you gave me your virginity. I let you slip away once. I've been a patient man. Stayed away these last ten years while you lived your life with Hutchins. I didn't make waves, didn't interfere."
"I'm supposed to believe you traveled with the rodeo not because you loved every minute of it, but because you were avoiding me? Bullshit."
"I love the rodeo. And you're right, I wasn't suffering riding the circuit, but by God, I suffered every time I came home. Every time I saw you with Hutchins, every time I thought of him sharing your bed at night."
"Stop." She put her hand up, anxious to wave away his words. "You and I broke up. We were never right together. You've got to—"
Jeb took a step closer and this time she did move back. "We were right. It's the timing that was wrong. That's not a problem now."
"I can't give you what you want."
He grinned, running the back of his hand along her cheek. "You're the only woman who can give me what I want. It's always been you, Claire."
He bent forward, his intention to kiss her as clear as the Texas sky. "Please don't," she whispered when his lips were a hairsbreadth away from her.
He paused for a moment, but didn't retreat. "I've missed you."
She closed her eyes and gave in. She'd missed him too. Terribly. She closed the miniscule inch left between them and offered her lips. The moment his touched hers, she was transported to the first time he'd kissed her—the night of the homecoming football game. She'd been sixteen and she remembered how excited she'd been when Jeb asked her to be his date for the dance the following night. He'd kissed her beside the bonfire at the end of the game.
Her first kiss, and it was every bit as beautiful as the one he was giving her now and she felt all those old feelings rekindled. His lips lightly grazed hers, reawakening feelings she thought had died with her husband. Soon his kiss became hungrier, hotter. She reached up, gripping his neck, making her own demands as she pulled him closer. He rasped his tongue against her lips and she opened her mouth, welcoming him in. His grip on her waist tightened and she sucked in a breath as his hands began moving upward, not stopping until he cupped her breasts.
The kiss continued as Jeb tweaked her nipples through her T-shirt. She spread her legs and began rubbing herself against his thigh. Her body was on fire. It had been so damn long since she'd felt the slightest spark of desire. She'd have to change her panties at the end of this interlude. She was too wet, too needy.
One of his hands left her breast, rising to grasp her ponytail. She shuddered when he pulled her head back, directing her with slight tugs on her hair, nipping her neck.
"It's still there. Still the same," he whispered against her skin. It had always been this way between them. One kiss and it was as if the entire world had gone up in flames. She struggled to pull away.
"No," she whispered. He hesitated and she could sense him taking stock, trying to decide if she really meant her refusal. She battened down her hatches and pushed against his chest. "No." Her voice was stronger this time. "This isn't the time or place." She glanced out into the yard, relieved none of the ranch hands had walked by and caught her making out with Jeb Carter in the doorway.
She was just so damn tired. It had weakened her resistance. Next time he tried to kiss her, she would be prepared, stronger, better able to fight him off.
"You've got dark circles under your eyes." He studied her face and she knew he wasn't discouraged by her pushing him away. If anything, giving in to his kisses had likely fueled his intentions to claim her…by any means necessary.
She shrugged. "It's been a long month. Hell, a long year."
He grasped her cheeks in his large palms but made no move to draw her closer. "You're gonna hire me."
He was relentless. She chuckled, then conceded. She needed help. "Maybe."
The grin he offered in reply was cocky, smug, and she knew she'd lost this round. Jeb would get his way. "My duffel bag is in the car. Make room for my stuff in your closet."
She narrowed her eyes. "You'll stay in the foreman's cabin and my bedroom door will be locked—every night."
"Maybe." He walked back to his car and she wondered what the hell she'd just unleashed.
OH–and I should warn you…not all the buy buttons work. Still waiting for the stories to hit Google Play and iBooks. They've been uploaded there…they just haven't gone live yet. Hopefully that will change very soon.
…to Assume the Positions?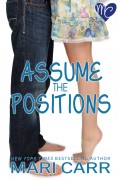 I must admit I have a special affection for this story. I've always loved the combination of dirty books and humor. Nothing more romantic in my mind than laughing with someone you love in bed. Thought I'd share the blurb and a fun, sexy excerpt from the story. It's a 17K word short novella and it cost just .99 cents. All the laughter and hot sex you can handle for under a buck.
When Rachel's friend dares her to participate in a cougar affair, Rachel is tempted, yet terrified. To control her growing angst, she makes a list of eligible men then…Nothing. It's been too long and her divorce was too painful. She'll never be able to do this.
Ethan, one of Rachel's physical therapy patients, is annoyed when he learns of the challenge. Not because he finds it silly, but because he's not on Rachel's list! So he does what any self-assured young stud would do. The luscious police officer gives her a copy of the Kama Sutra then asks her to make a new list.
It's time for Rachel to assume the positions. With him.
EXCERPT:
"Potential Younger Men for Cougar Affair?"
Rachel prayed to God he didn't know what "cougar" meant. She'd only learned of the term while reading her erotic romance novels. She'd been shocked to discover how much the idea of an older woman hooking up with a younger man turned her on, pushed her hot buttons.
"It's just something silly…something stupid, really. Give me back my notebook and we'll get started on your exercises."
Ethan ignored her and she watched as he scanned the list of names. When he closed the book with a snap, she flinched at the unfamiliar look on his face. She'd never seen him look so serious or…angry. "What are you doing, Rachel? What the hell is this list about?"
She took a step back, confused by his reaction. Over the course of the past two months, she'd felt a friendship forming between her and the young cop. As a result, she now found her fears, her anxiety over the challenge falling from her lips uncontrolled.
Even though she was sure she was making a mistake, she told him everything—from meeting her friends at the conference to the blog to the dare to sleep with a younger man. She didn't leave out a single detail and throughout her entire confession, Ethan was quiet. In the end, it was his silence that unnerved her more than his initial anger.
"So there," she said at last. "That should keep you busy in the teasing department for months. I'm an insane, horny-as-hell woman who's actually contemplating throwing herself at a younger man on a dare. And before you say anything, yes, I know…I'm old enough to know better." She walked away from him as she said the last, too embarrassed to face him.
She'd only made it two steps when he reached out and gripped her forearm, turning her back around. "Old enough to know better?" he asked. "You think you couldn't land a younger guy?"
"Maybe I could," she said, surprised to find him taking this conversation so seriously. "I mean, I don't think I'm unattractive, just sort of out of practice with the whole dating scene."
Ethan grinned and she spied the usual mischievous sparkle in his gaze that she'd grown accustomed to over the past few weeks. "Wish you'd mentioned this horny problem of yours earlier, Rach."
"It's not something a polite woman advertises," she said.
He continued pulling her toward him until they stood face-to-face, close enough that she could smell his skin, a pleasant combination of fresh shower, soap and—yummy—man. Rather than look up, she stared straight ahead, placing her line of vision at the top of his chest. There was no way she could look at his handsome face and not spend the rest of their session imagining him naked. He wore a tight T-shirt and she could just imagine what his bare pecs would look like. She swallowed heavily, her mouth watering at the thought.
"Isn't that a shame," Ethan added. "Advertisements like that sure would take a lot of the guess work out of dating."
"I haven't been doing a lot of dating since my divorce from Voldemort."
"Mm hmm." She felt certain if she hadn't been standing so closely, she wouldn't have heard the small, guttural sound—a growl?—that emanated from him. Did it make him angry to hear her mention her ex? "Look at me, Rachel," he said as she felt his gaze bore through the top of her head.
"I am," she said, her eyes remaining locked in place, several inches below his chin.
He reached down and gently forced her head back with firm fingers at her jaw. She took a deep breath and faced him. His head was cocked to the side, his lips painfully close to hers. An impractical woman would lean forward and initiate a kiss. A woman without any common sense would rise up on her tiptoes, close the gap separating them and take a nice, long taste of him. An adventurous woman—
Her mouth stroked his briefly and her mind struggled to understand how she'd gotten close enough for that touch. Had she moved?
Her lips brushed his again, but rather than move away, she continued to push closer.
Oh shit.
She was kissing Ethan. Her brain kicked into high gear.
Red alert! Abort! Abort!
Her practical side was practically screaming for her body to step away from the hot man. But apparently her body had its own agenda.
His fingers moved from her chin and along her cheek, taking up residence in her hair. His hand pulled her closer and he deepened the kiss, forcing her lips open with his, exploring her mouth with his tongue.
Holy crap. He was kissing her back. She wrapped her arms around his neck and struggled not to moan when his other hand traveled up and down her back, rubbing delicious patterns through her shirt that made her want to purr like a kitten.
They continued to kiss, but Rachel's racing mind kept fighting for the control her body had seized.
This is wrong. He's so far out of your league I'm not sure you can consider yourselves inhabitants of the same planet. He's a patient.
The last thought jarred her enough that she pushed away abruptly.
"Shit," Ethan muttered when she struggled out of his embrace. "I was wondering when that head of yours was going to get in the way."
"What?" she asked.
"You think too much," he replied.
"That's not true. I just don't think it's professional for me to be kissing you in the clinic."
He grinned. "But it would be okay if you kissed me outside? The door's right there. Let's go."
"It's not professional, period. I shouldn't have— It was wrong of me to—"
"Kiss me?" he supplied, and she could see he was enjoying her predicament far too much.
"Yes," she hissed.
"Did that overactive brain of yours happen to notice that I was kissing you back?"
Oh, her brain noticed—it just didn't want her to be happy. Meanwhile, every other major organ and nerve in her body was singing—big time. Her nipples were cutting through the satin material of her bra, her stomach was still doing happy flip-flops and she was noticing regions south of her waist reappearing after deserting her years ago.
She shrugged. Seemed like the easiest thing to do.
"Why wasn't my name on your list?" he asked.
She burst into laughter.
"I'm serious," he persisted when she continued to chuckle.
"You sound as if you're hurt by the omission," she said. "Is this some male ego switch I've triggered? I would think you'd be relieved. You don't have to worry about some sex-starved divorcee setting her sights on you. Trying to lure you into her lair." She raised her hands in a claw-like fashion and made a scary face.
He didn't smile at her joke, so she lowered her hands and shook her head. "I like you, Ethan. You've become a good friend these past couple of months and I wouldn't dream of annoying you like that."
"Annoying me? You think I'm not attracted to you? Sexually?" he asked, setting off her laughter again.
"Oh damn, now that is funny," she said between giggles. "Well, I guess I'll just have to say it. You're hot, Ethan. Super hot. And a decade younger than me."
"I thought that was the point of this challenge of yours," he argued.
"Well, let's just say there're younger men and then there're younger men. In the world of women like me, you fall into the untouchable category."
He nodded, but she could see he didn't like her answer. "I didn't see that 'untouchable' thing holding you back a few minutes ago."
She sobered up at his scowling face. "As I said, I shouldn't have done that."
He was silent for several uncomfortable moments and she wished she could read his mind. "I've screwed up everything tonight, Ethan," she added, desperate to fill the void. "Can we just start this whole PT session over? I'll even let you sneak in and scare me again."
His face cleared suddenly and his cocky grin returned. She took a deep breath of relief—until his next words knocked it out of her again.
"Put my name on your list," he demanded. "The top of your list. And then mark out every name under it. You're going to follow through on that dare…with me."
I recently re-released a bunch of my older titles. I thought it might be fun to do a little blast from the past this week as the old becomes new!
One of my very first series centered around a group of teachers at Lowell High School. Well, three of these stories (Bound by the Past, Covert Affairs and Scoring) have had a facelift! New covers and some revisions. Bound by the Past was previously titled Retreat and I did some fairly substantial edits on this one. I added to couple scenes and changed up the climax–tried to make it a bit longer and more suspenseful. This was one of the VERY first books I ever wrote and it's always sort of been in the back of my mind that I'd like a do-over in terms of adding to the intensity of the story.
As for Covert Affairs (previously Covert Lessons) and Scoring, I simply went through and cleaned up my writing! It's interesting to see how much my writing has changed (and hopefully grown) since 2008/09 which is when these books first appeared. And…I'm going to admit…I think I used to write a hell of a lot dirtier! I actually blushed a bit while re-reading these. Oh my! I was shameless in my younger years–snicker.
Mad about Meg
Lowell High, book 1
She'd never been lucky in love…until she met him.
If it weren't for bad luck, Meg Williams wouldn't have any luck at all. As if traveling to a tropical island on Valentine's weekend in a nasty storm isn't bad enough, she's doing it alone after finding her boyfriend in bed with another woman. Enduring the trip from hell, she arrives on Eden Isle only to discover that her hotel reservation has been lost and there are no vacancies anywhere on the island. Disheartened, Meg heads for the hotel bar.
Rob Madison is used to being in the limelight due his wealth and power. Used to being pursued by women for his fortune. When he meets Meg and realizes she doesn't know who he is, he decides to spend the evening as a regular guy. Discovering she doesn't have a place to stay, he offers to share his penthouse with her.
As the night progresses and their mutual attraction becomes apparent, Meg wonders if her luck has turned, while Rob wonders if one weekend in each other's arms will be enough…
Bound by the Past
Lowell High, book 2
Jon and Night grew up in a cult and were trained as BDSM Masters. Only when undercover agent Reilly infiltrated the Commitment Church did the boys learn of the cult's seedy underside and help to destroy it.
Years later, Jon's job as a teacher—and his love for colleague Carly—bring him close to the normal life he's always craved. Just when happiness is within his grasp, Reilly returns. An incarnation of the cult has resurfaced with Jon's evil mother at the helm. Reilly wants Jon and Night to go undercover to stop her once and for all.
Shocked by his mother's return and his BDSM past come back to haunt him, Jon is terrified of Carly discovering his dark secrets. Including the darkest of all—his complex relationship with Night and his unrelenting urge to share Carly with his best friend.
Bound by the Past has been revised and was previously published as Retreat.
Covert Affairs
Lowell High, book 3
Gangs are taking over the hallways of Lowell High School. Desperate to save her alma mater, teacher Kelly Finch reaches out to at-risk students in an effort to steer them from more dangerous pursuits. Still, gang activity is rising, and when the superintendant seeks help from an undercover task force, Kelly is forced to play host to the most arrogant, infuriating, sexy man she's ever met—Lt. Jared McNally.
The opinionated pair clash constantly, especially when Mac sets his sites on Kelly's favorite student. As the intensity of the mission grows, so does their attraction. Sparks fly in and out of the bedroom, but if they're going to make the school safe once more, they need to find a way to keep their covert affair under wraps.
Covert Affairs was previously published as Covert Lessons.
Scoring – Free Read
A Lowell High short story.
Never accuse Coach Tony Peterson of being a quitter, on the gridiron or in his personal life. For a year, his attempts to date Lowell High's hot little choral director have failed. Melanie Ward is convinced that touchdowns and tempos don't mix, despite Tony's irresistible charm. When Tony finally wrangles a date, he schools Mel in blazing explorations of the physical kind.
But for Tony, the night isn't just about scoring—he's playing for keeps.
Scoring was previously published and is a Lowell High 5K word short story.