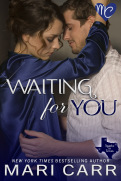 Waiting for You
Today marks the re-release of Waiting for You. This story was originally part of Brenda Novak's Sweet Seduction box set. And now, it's being released once more as an individual story. If you didn't have the opportunity to pick it up before, now is a great time to grab it. Through the end of July it will be available for just .99 cents. In August, it will go up to its regular price of $2.99. This book is part of my newest series, Sparks in Texas. The introduction to the series, Sparks Fly, is available now and on Sept. 8, book three, Something Sparked will come out.
Sparks in Texas, book 2
How do you protect the woman you love…when the greatest danger is sleeping in her bed?
Sydney Sparks can't remember a time when Chas wasn't part of her life—from childhood playmates, to high-school sweethearts, to long-distance friends. Now, after twelve long years, Chas is leaving the Marines and coming home. Sydney's thrilled to have him back on American soil, safe and sound, even if his return is doing funny things to her heart.
The second he stepped off the plane and locked gazes with Sydney, Chas refused to waste a minute more on their "just friends" status quo. Together again, it feels as if they were never apart, the love they'd shared as innocent teens now vastly more intense as adults—with a sexual hunger to match.
However, despite his newfound happiness, Chas can't seem to shake the memories of his tours in the Middle East, of the firefights, the killing…the deaths of his friends. When the flashbacks grow stronger, Chas struggles to hide his increasing lack of control, terrified of losing everything he'd just regained—including Sydney.
Waiting for You was previously published as part of the Sweet Seduction box set.
Excerpt:
Sydney stood next to Gran, who was flanked by Julian on the right. The three of them were standing at the international arrivals gate, grinning like fools as they held the banner Sydney had made. Chas' flight had landed and her heart was racing a million miles an hour. She'd seen him just a few months earlier over the holidays. They'd exchanged small gifts and consumed a bottle of eggnog together. Chas had even told her a little bit about two friends he'd lost in combat, the story breaking her heart.
Chas had ended up sleeping on her couch that night, while she'd tossed and turned in her bedroom, fighting the urge to go out and comfort him. However, there had been something in his eyes—some dark, unfamiliar sadness—that had stopped her, that had told her to keep her distance.
Several more people walked through the gate. Sydney watched as relatives reunited with hugs, laughter and sometimes tears. She loved coming to the airport, loved the energy and the atmosphere, the hustle and bustle. It was a hotbed of emotions unlike any other place.
Gran captured her attention with a nudge of the elbow. "There he is."
Chas strolled through the doors in jeans and a t-shirt. It would seem so weird to see him dressed in civilian clothing rather than his fatigues from now on, and she wondered if he'd give up the crew cut he'd kept for so many years and return to the longer style of his youth. He looked around the area, searching for them. Sydney smiled and waved when his eyes met hers.
Chas walked faster then, laughing when he read their banner. Sydney took it from Julian and Gran, stepping back so that Chas could greet his family.
She was shocked when he bypassed both of them and walked right up to her. He tugged the banner out of her hands and dropped it to the floor a split second before he grabbed her in his embrace and kissed her.
His mouth was demanding, forcing her lips apart so he could stroke her tongue with his. Sydney fought off a wave of dizziness and disbelief. Even a bit of embarrassment when she recalled his grandmother was standing less than five feet away from them. She put her hands on his shoulders, intent on pushing him away, but Chas only gripped her tighter, one of his hands rising to cup the back of her neck, his fingers lightly stroking the sensitive skin there.
She was a goner. Sydney stopped giving a shit who was there and what they were seeing. Chas was home. And he was kissing her.
Twelve years melted away into a haze of nothingness. He was home. Finally.
Today marks the release of the final story, Say Something, in my Second Chances series. It's been a long, wonderful journey as I sought to find happy endings for my beloved wine girls. This time around, it's Georgie's turn to find happiness.
Third mistake's a charm.
Second Chances, Book 6
Georgie Russell has always been a full-steam-ahead, spur-of-the-moment, no-looking-back kind of girl. But as midnight on New Year's Eve rolls around with her friends coming up with wine-induced, second-chance goals, all eyes turn to her.
They all know her "runaway bride" history. Three exes attest to her aversion to vows of any kind. Maybe it's time she tried to make amends, especially to ex-fiancé number three. The one she literally left at the altar—Nick Hammel.
Nick has spent the better part of a year working overtime to get over Georgie. As a divorce attorney surrounded by broken marriages day in and day out, he figures she did him a favor.
But when they wind up at the same bar one night, he realizes he hasn't moved on at all. All it takes is the feel of her arms around him, and his heart is ready to jump out of the lonely frying pan to get close to her fire…even if it means risking another serious burn.
Warning: Contains a free-spirited florist who knows a thing or two about sowing wild oats, and a jaded divorce lawyer who thinks it might be worth risking a few thorns to stop and smell her roses. Best accompanied by a glass of wine or (and) a couple of lemon drop shots.
Excerpt:
The night passed in a pleasant haze of shots, hot college guys and dancing. Georgie was glad they'd come. She'd been feeling blue since New Year's Eve. Tonight was helping her break out of those doldrums.
"You wanna dance?" Frank asked.
Georgie nodded, then grinned when all three guys at their table, plus Kevin, followed her to the floor. She was the cream filling in a frat-boy cookie and it was fun. Between the flashing lights, the sweet beat and the heat of the vodka, Georgie felt weightless, like a feather floating along the current of a gentle river.
Nothing could ruin this buzz.
Or so she thought.
She glanced over at the table to check on Kristen and Laura and spied Jason standing there with Nick. Her heart skipped a beat and she sucked in a deep breath to steady herself. He was staring directly at her and he looked totally pissed. Of course, that was his standard expression whenever she ran into him these days.
She considered her resolution. Though she'd originally planned to knock fiancés number one and two off her list before approaching Nick, she didn't think she should look this gift horse in the mouth. Tonight was as good as any to start phase one of the second-chances goal in regards to Nick. After all, she was riding pretty high on vodka courage.
She excused herself from the group of guys surrounding her, ignoring their disappointed looks—as if she'd seriously hook up with boys who probably used fake IDs to get into the bar—and made a beeline for the table.
Georgie feigned annoyance. "What the hell? What are you two doing here? It's GNO."
Jason frowned. "GNO?"
Kristen and Nick responded in unison. "Girls' Night Out."
Georgie tried not to grin at Nick's quick response explaining her acronym. Her abbreviations used to drive him nuts. He'd always look at her and say, "Why can't you just say the damn words?" Which, of course, encouraged her to use even more text speak.
When Nick stepped closer, Georgie fought to calm her nerves. She'd only seen him a handful of times since she'd left him in the church and he'd been chilly at best.
"Looks more like the Babysitter Club out there," he said with a slight jeer. She tried to read his tone. Was he putting her down—still angry—or was he jealous?
Georgie forced a laugh and tried to play it cool. "I was just warming them up for Kristen, seeing if any of them had future husband written on them. By the way," Georgie said, looking at Kristen, "they all want kids. Sorry."
Kristen had come here tonight in hopes of finding some potential husband candidates and Georgie had promised to help. Since she sure as hell wasn't interested in finding a guy for herself, she'd spent her evening interviewing possible hook-ups for Kristen and Laura.
Mercifully, the waitress returned with another round of shots. While Georgie had consumed more than her fair share of vodka, it wasn't nearly enough to still the butterflies in her stomach now that Nick was here. They'd been standing next to each other for all of five minutes, which was the current record in their new status of "broken engagement couple".
Nick placed his hand over Georgie's as she started to lift the glass. His hand was huge and covered hers completely. She prayed he couldn't feel it shaking.
"Um, George," Nick started, using his nickname for her. She melted a bit. She'd always pretended to hate it when he called her George, but in truth, she got wet every time he said it. Tonight was no exception. Dammit.
"Don't you think you've had enough?"
Georgie glared at him. No small task considering how far she had to look up. She'd always thought they must have looked like an odd couple, Nick's burly, six-three mountain casting a huge shadow over her five-two petite frame. Tonight wasn't as awkward though. She'd bought herself a few inches with her kick-ass heels. Not that it made her feel any bigger next to Nick.
"Nope. Not yet." Georgie shook off his hold. "Here's to second chances and sexy college guys," she said, hoping to gather more evidence that he might be more jealous than pissed off. Nick rewarded her sauciness with a growl.
Then he lifted his own shot glass and drank as well.
Georgie wasn't sure why he was sticking around. She was used to him avoiding her like the plague. They'd had four run-ins since the wedding day. Once in the grocery store, once on the street outside Kristen's townhouse, and twice in local bars. Each time, he said a very gruff hello, then turned and walked away before she could respond.
They'd never talked about her desertion at the wedding. Not once. She'd lost her mind, run away, and that was it. She had considered calling him at least a thousand times in the week immediately following, but she'd never found the courage to dial the number. Then, as more time passed, she realized he hadn't called her either.
She reached across Nick to grab a pretzel from the bowl in the middle of the table, using the motion to lean closer. She took a quick sniff, her body reacting to the familiar smell of him—the masculine cologne she'd bought him for Christmas two years earlier bringing back a flood of good memories.
Of Nick standing in front of the mirror in the morning, slapping the scent on after a shave. Or the way he'd reach for her before leaving for work, picking her up in a giant bear hug. Or the night he'd come home after a few days out of town. She'd met him at the door where he'd scooped her up and tossed her over his shoulder like a sexy firefighter, carrying her to the bedroom where he'd done unspeakable, delicious things to her body.
A wave of heat suffused her, making her flush. And sway.
Damn. She really shouldn't have had that last shot. Tipsy was giving way to drunk. Not a smart move given her plan.
Nick's deep voice caught her attention. "Um, Jason."
She looked up in time to see Nick gesturing to her. Great.
The first time she managed to score a little bit of time with Nick without him storming off in a huff and she'd ruined it by overindulging in vodka.
"GNO appears to be over," Jason said.
Georgie wondered if it was physically possible to kick her own ass. That desire quickly passed when she realized the guys intended to drive them home. Wow. What the hell was going on? Of all her former fiancés, she'd anticipated Nick's anger would be the hardest to break through. That he'd be the most resistant to her attempts to apologize and make amends.
"Come on, George," he murmured.
She fought to restrain her grin when Nick wrapped his arm around her waist, intent of helping her to the car. She wasn't that damn drunk, but she also wasn't stupid enough to admit it either.
She looked up at him, her brows furrowed. "You're being nice to me."
He shrugged, though his scowl didn't soften. "You caught me on a good night."
"So you'll hate me again tomorrow?"
Nick didn't respond immediately, though she thought she heard him say something that sounded like, "I don't hate you" as they approached the car. Unfortunately, someone driving by honked their horn so she couldn't be sure he'd spoken at all.
Her glee over having Nick with her grew when Jason took the driver's seat as Kristen claimed shotgun. Nick climbed in the backseat, pushing her to the middle wedged between him and Laura.
"How come I get the bitch seat?" she asked.
Nick rolled his eyes, but she didn't think he was as annoyed as he was pretending. "Just buckle up, George."
She purposely fumbled with the seatbelt until Nick grabbed it and snapped the buckle for her, his hands brushing her hip. She sucked in a breath and fought off the desire to straddle his lap and feel that gorgeous big cock of his pressed against her pussy. It had been so long since she'd been with a man.
A year, in fact. And the last man had been Nick.
Distraction. She needed a distraction. And fast.
So she turned to Laura to ask her about the guy she'd been talking to just before they left. Laura explained that she'd been friends with the man—Bryan—in high school, mercifully filling the time between the bar and home with some funny stories about her and Bryan, who sounded like a pretty cool guy.
When they arrived at the parking lot of their townhouses, Georgie expected the guys to say their goodbyes.
She was delighted when Nick reached in to help her out of the car. She'd always loved how big and strong he was. She didn't give a shit if that made her sound girlie and helpless. She just liked how easily he was able to move her around. It made her hot and horny.
God…the vibrator was definitely coming out tonight.
Nick turned as if he was going to get back in the car. And he would have if she hadn't almost face-planted on the sidewalk. Thank goodness he was still close enough to catch her.
Heels and vodka were definitely not a smart mix. She giggled as she continued to grip his forearms, his hands grasping her waist firmly.
"Oops," she said. "Guess you were right. I really shouldn't have had that last shot."
Nick looked up to the sky quizzically.
"What are you looking for?" she asked, swaying with the effort.
"Lightning. Surely it's about to strike. You just said I was right about something."
She laughed, then tried to find her footing again, which was surprisingly difficult. "Why is this sidewalk so lumpy?"
Nick sighed. "Yeah. It's the sidewalk's fault you can't walk."
Georgie didn't have time to reply when he bent down and picked her up. She reached out instinctively to wrap her hands around his neck.
"I'll take her inside and get her to bed," Nick said to Jason.
As soon as Nick said bed, Georgie's tipsy mind raced to at least twenty different gutters. Oh man, she missed sex with this man. For such a straight and narrow guy, he was all kinds of kinky in the bedroom.
This night just kept getting better and better.
If only her head weren't so damn fuzzy.
Lila and I participating in a fun little box set that comes out today. Now, I have no idea how you feel about box sets. Some readers love them, others hate them. As an author, I'll admit I enjoy taking part in sets like this because it offers me the opportunity to promote older works to new-to-me readers. Folks who read Sidney Bristol or Sasha White may never have heard of Mari Carr or Lila Dubois (can you imagine?! lol). Joining forces on box sets with authors you admire is like going to a party full of strangers and making new friends.
This is a smaller set, only 6 stories. However, they PACK a PUNCH! Each story has a BDSM theme and it is also the first in a series. If you're like me and you love a nice, juicy series to fall in to, then this would be a great set to pick up. Plus…it's six books for .99 cents. Awesome price! The set will only be together for a couple of months, so if you think you'd like to get it, don't wait, grab it now.
First Taste: A Collection of Hot Alpha Doms, First in Series Romance
Welcome to your FIRST TASTE of forbidden desire. This erotic romance collection introduces six hot series of the alpha Dominants and the sassy submissives who love them. These six previously published books of varying lengths open the doors into new worlds of temptation. What's your flavor?
The Principles of Lust, Lush 1 – Sasha White
Businesswoman Teal Jamison knows what she wants and isn't afraid to go after it. With her dream art gallery about to open, she's in need of some serious stress relief, and virile carpenter Zack Dillon is just the man to give it to her. Only Zack doesn't think they're a good match. He likes to be in control, always, and Teal's anything but submissive when she comes on to him.
Frisky Business, Frisky Series 1 – Michele Bardsley
When executive assistant Claire Williams is talked into one last favor for her ex-boss, magazine publisher and billionaire playboy, Lucius Devereaux, she never imagines she'll end up at a BDSM resort. Or in the arms of the one man who's always been off-limits.
Picture Her Bound, Bayou Bound 1 – Sidney Bristol
Odalia Foucheaux is a police officer desperate enough to break the rules. Jacques Savoy is the bounty hunter standing between her and ruin. He wants her safe from harm as much as he desires her body, her soul—and her submission.
Come Monday, Wild Irish 1 – Mari Carr
After the death of her mother, Keira Collins became a surrogate parent to her younger brothers and sisters, her dreams put on hold. Now, at 27, she's finally pursuing a college degree. Between classes, working at the family pub and still tending to siblings, she's no time for romance. So why is she spending all her rare free time fantasizing about hot Professor Wallace bending her over his desk?
One Gold Heart, Dominant Cord 1 – Sadie Haller
When reclusive oboist Mac Wallis agrees to replace an injured friend for the Christmas concert season, she gets more than she bargained for when she meets Dom, Finn Taylor and has to decide whether to take a chance or return to her life of seclusion.
A is for…, BDSM Checklist 1 – L. Dubois
The overseers of LA's most exclusive BDSM club have a sexy new game—everyone is assigned a letter, and they have to try every kink, toy and activity from that part of the BDSM checklist. Master Jensen knows who, and what, he wants—Anna—but when he gets the first letter of the alphabet he must prove to himself, and the lovely submissive, that he's willing to push them both to their limits, and maybe beyond.